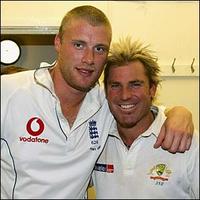 From the BBC---
Men of the series
While England supporters rejoiced even the most fervent of England fans must have felt touch of sympathy for Australia's Shane Warne.
The leg-spinner bamboozled England's batting line-up to finish the series with an incredible 40 wickets.
At times it appeared he was playing Vaughan's men on his own.
He and Flintoff were named Men of the Series.
From me---
Now I don't know anything about cricket--well not much anyway. I know that ball friggin hurts if it hits you, and I know we haven't won the Ashes series since 1986. Now the history of the Ashes is complicated--see
here
for explanation. But the bottom line is the Aussies have been thrashing us at it for yonks--and rubbing our noses in it in every chance they get. So finally we can rejoice!! And I loved the footage of Andy Flintoff staggering onto the bus, obviously drunk, but smiling merrily, before they began their trip through the streets of London to see Tony Blair.
Nice to have something to celebrate!!!