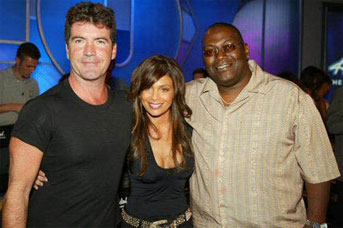 I printed out pages 1-244 of
Storm Warning
last night. One of my favourite feelings is holding that warm printed out paper in my cold hands. Anyway, I printed it out during the advert breaks of
American Idol
. Man I love that show. Anyone see the girls Tuesday night? I really do not like Brenna or Heather. Everyone else I loved.
Everyone hates Simon--except me. I have NEVER disagreed with him, either here or in the UK. People think he's cruel, but I figure that is the business. Reality in the pop world.
It reminded me vividly of the live panels in Reno, where agents and editors laughed or chuckled derisively at some of the works presented to them. I felt for those people whose work was shredded. Just like I feel for the contestants who have a bad night.
But Simon Cowell is who we are facing whenever we send off our manuscripts. They might look like Paula and Randy, but beneath the surface every agent, editor and contest judge is Simon Cowell.
Remember that.